Mary Catherine Gallagher
"When I get nervous I stick my hands under my arms and I smell them. It's gross because they smell so bad. It's dirty and bad."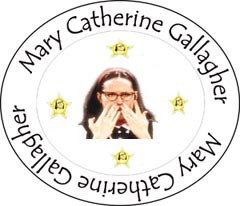 Mary Catherine's FAVORITE Links:

Click below to view the Photo Gallery:
Have questions or comments about this site?
(marycatherinegalager@ivillage.com)
View My Guestbook
Sign My Guestbook

Disclaimer: Yes, I know it's actually spelled "Mary Katherine Gallagher" but after having a hard time finding a Mary Catherine name that wasn't already taken (it seems like there's a site or username for every spelling there is!), I decided to go with my own spelling. Also, I'm in no way affiliated with Saturday Night Live or Molly Shannon. I just laugh everytime I see MCG (or MKG if you're picky), so I'm hoping this site will bring a little smile to you as well. Enjoy!!
FastCounter by bCentral