Tons O' Links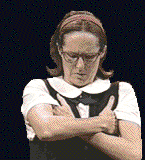 Molly Shannon 1
- Links, photos, and lots of other information at this site.
IMDb Filmography
- Includes a very extensive list of movie and television appearances by Molly
Chillin' With Molly Shannon
- personal site by Becca. Has a rather thorough collection of Molly's lines from the movies she's been in and has multimedia and interactive links as well. Definitely worth a visit!
Molly Shannon is God
- personal site, very confusing, very little if any info about Molly, couple of pictures and tons of quotes by other people
Keri's Molly Shannon Site
- Personal page dedicated to Molly. Has a photo page, snl cast info page, and a few links to Molly related sites.
Molly Rox SNL
- Yahoo club dedicated to Molly Shannon. "The most popular Molly club on the web!"
Are You A Catholic School Girl?
- Check out this list by Alexis that will let you know if you meet the criteria! It made me laugh so I'd take a peek if you get a chance. (note: Be sure to use the Back button on your browser, not the back link that's on the School Girl page to get back here.)